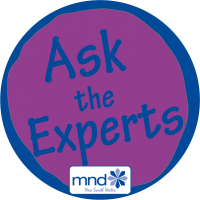 Hear from experts in the fields of MND research, neurology and genetics and ask questions at this live online Forum. This is an opportunity for people living with MND, their family, and friends to learn the latest developments in MND research. You shall be able to ask the experts questions at this live event. We shall also be recording the event, for those who wish to view it again later.
Here's a little preview of what you can expect on the day:
Dr Gethin Thomas, Executive Director, Research, MND Australia shall provide an interesting overview of what's new and what's happening in Australian MND research.
Professor Victoria Flood, Faculty of Health Science, University of Sydney shall provide results from a multidisciplinary pilot study into the effectiveness of swallowing exercises and dietary modifications for people with ALS/MND.
Ashley Crook and Rosie Fell, Genetic Counsellors, Macquarie University Centre for Motor Neurone Disease Research, will speak about familial MND and the role of genes in MND.
There is no need to register for this event but if you have any questions then please contact This email address is being protected from spambots. You need JavaScript enabled to view it. or phone 8877 0999 or Freecall 1800 777 175.
View or download program here: