This program is designed to help support people with disability to participate in community events and activities by making it easy for a companion to join them.
The Companion Card is a credit-card sized photo ID card issued to people with a significant and permanent disability who require support from a companion to participate at venues.
Cardholders present their Companion Card when booking or purchasing a ticket from a business and this allows their companion to gain free entry into participating venues and events.
How do I apply for a Companion Card?
You must fill out a hard-copy (paper) application form, and then return it via post or email to the NSW Companion Card team at:
Email: This email address is being protected from spambots. You need JavaScript enabled to view it.
Post:
Companion Card
Locked Bag 5000
PARRAMATTA
NSW 2124
Download an application form here: Application Form PDF, 513.19 KB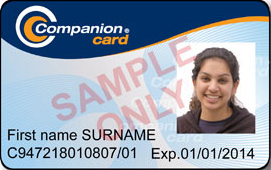 Can someone else fill in the application form on my behalf?
Yes, someone else is allowed to complete the form for you, or help you to fill it in. They will then need to put their contact details on the application form. They will find a place on the form to do this.
What supporting information should I send with the application?
copies of up-to-date reports from health professionals (e.g. a specialist, psychologist, speech therapist, physiotherapist, occupational therapist, registered nurse or social worker)
any other information that you believe will show that you qualify for a Companion Card (e.g. details about the support you receive through the National Disability Insurance Scheme)
A health professional needs to complete ITEM 6 on the form.

Where can I use it?
You can search for participating Companion Card venues and events here: Where can I use my Card? | Companion Card (nsw.gov.au)
ACT Companion Card Program
Further details and application form for residents in the ACT can be found online here:

NT Companion Card Program
Further details and application form for residents in the Northern Territory can be found online here:
If you have any further queries or concerns, then please contact your MND Advisor
or our Infoline on 1800 777 175.