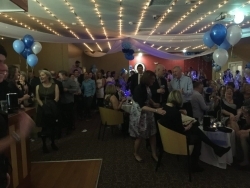 MND NSW supporters who organise events and activities that raise funds for motor neurone disease provide much needed funds for MND care, support and research. In the past supporters have organised golf days, trivia nights, bowls afternoons, shaving for MND, auctions, afternoon teas, balls, stalls, treks and walkathons. Help us fight MND with your event.
As a registered charity, MND NSW is required to issue a Letter of Authority to people receiving money on its behalf.
1. Getting started
Fill in the Proposal to Fundraise for MND NSW (below) and return to MND NSW or email to This email address is being protected from spambots. You need JavaScript enabled to view it.
If you have others assisting you with the event please list their names on the application form.
We will issue your Authority and will know about your event so we can assist you as much as possible, for example, letting people know about your event on this website or in the MND NSW newsletter.
2. Organising your event
Carry your Letter of Authority when you are collecting prizes or meeting with people about your event.
You will have the authority to use the MND NSW logo on all literature regarding the event. However, to comply with the guidelines as set down by the Office of Charities, all correspondence, promotion, advertising and media releases must be approved by MND NSW prior to publication. The MND NSW registered charity number, CFN 11154, must also be included with our logo at all times.
Thank you for thinking about supporting MND NSW.